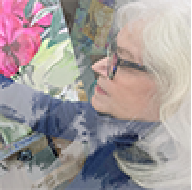 Artwork by Carol Sims
---
Tap any image to enjoy a larger, slideshow view.
---
Artist's Summary
The repeating patterns, colors and shapes in Nature
have appeared often in the subject matter in my paintings.

I refer to the thousands of photos I've taken over my life, when I'm
composing new work.

Inspiration is everywhere and when at my easel, and in the "zone",
immersed in acrylics, tools and subject matter, I'm in a peaceful happy
place where time ceases to exist.

I worked in advertising and design for twenty years after my art
education in Chicago, and in 1992 I began painting full-time.

My goal is to pass a sense of peace and calm through my work.
---
Artist's Links
---