AiA Monthly Member Meetings
AiA's Monthly Member Meetings bring our artist community together and may feature a guest speaker, art demonstration or artists' show-n-tell. Everyone is welcome to attend; membership is not required. Meetings are held on the Third Tuesday of each month (excluding December).
We are meeting physically again at Broadway Commons on the third Tuesday of the month at 6:00.
Submit Images of Artwork for Show-n-Tell
Meeting at Broadway Commons
Our room is booked! Artists in Action has returned to in-person meetings at Broadway Common for the Monthly Member Meeting. 6:00 PM, 3rd Tuesday of the month, except December and August.
Broadway Commons
Mexico Room (304)
1300 Broadway Street NE
Salem, Oregon
---
---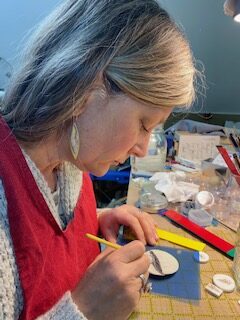 ---
Dawn Hemstreet is planning on doing a talk about metal clay and the sculptural aspects on January 16th, 2023. She will bring some metal clay for a quick demo as well.
Dawn grew up loving jewelry and creating beaded jewelry. Her love of color, gem
stones and metal drew her to begin classes in metal smithing in 2010. She completed Metal
smithing 1 at Oregon College of Arts and Crafts and continued her jewelry making education
by taking metal clay and metal smithing classes at Multnomah Art Center & Private workshops
from 2011-2016. In 2017 she took a teaching certification course through Art Clay World and
became a level one teacher through that organization. She has taught about 25 + classes in her
home studio in Silverton Oregon since 2017. In March of 2020 she also took a PMC
certification course and has proficiencies in Keum Boo and other Metal Clay/Metal Smithing
techniques. She is an avid student and takes at least 1 skill building class per year to learn
other teaching styles and techniques.

Dawn is a trained nurse (RN/BSN) and spent much of her early adult years caring for cancer
patients and hematology patients in Oregon, New York & Colorado state. Her experience at
the bedside has helped her realize that life is precious and the human spirit is endless. The
depth of the work she has done shows in her designs and the symbology used in her
sculptural jewelry pieces.

She has a diverse set of inspirations that lead to interesting design and innovative use of
metals. A chronic rule breaker she is never willing to take the "rules" too seriously and often
stumbles upon new and innovative ideas and design in her medium.