Inspire. Be inspired.
Artists in Action is a diverse and inclusive group of emerging, mid-career and established visual artists who encourage those of all skill levels and mediums to come together to share their passion for art and their techniques with other members in Salem and the nearby communities of the Willamette Valley where we live. AiA hosts several signature events and calls to artists each year and participates in other events at the local level. We are a nonprofit organization that has successfully operated for two decades.
We are currently accepting nominations for the 2023-2024 Board of Directors. Nominations can be added in the volunteer section Nominations Members Extras section here.
Among us are artists working in drawing and painting, sculpture, textiles and fabric arts, assemblage, ceramics, glass, photography, digital media and print making. You are invited to mingle with kindred spirits at our monthly meetings which feature club activities and art-centric topics to inspire creativity and educate as well as our art sharing & critiquing forum, Art Chat.
Browse Our Member Art Galleries
---
AiAction Ticker
Meeting at Broadway Commons
Our room is booked! Artists in Action has returned to in-person meetings. The meetings start off with casual meet and greet at 6:00 PM.
Broadway Commons
Mexico Room (304)
1300 Broadway Street NE
Salem, Oregon
---
Spring Art Exhibition April 2023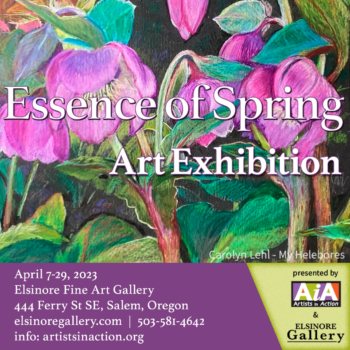 This year AiA will be calling for engaging works of art that conceptualize either 'Spring' or the 'Essence' of Spring or the 'Essence of Spring' for our annual springtime event. The resulting Spring Exhibition art exhibition is held during April at Elsinore Fine Art Gallery, 444 Ferry St SE, in downtown Salem, Oregon. Opening night reception and awards ceremony usually coincide with Salem's First Friday events.
Elsinore Fine Art Gallery Website
---
---
'Outside the Box' Annual Fundraiser
AiA's Outside the Box Annual Fundraiser should be in the physical realm this year! Artists in Action should have a booth at Salem Art Fair & Festival, held in Salem's Bush Pasture Park on July 21-23, 20223.
Calling AiA and Local Artists: Please help us raise funds by creating/donating your inventive and quirky box creation(s) for auction. This event helps add to our coffers to keep the organization's bills paid. We hope that going back to the park will be a good motivator for artists and bidders to return to this event. Thank you in advance. We'll post details as they become available.
---
Art Chat — Sharing & Critiques
AiA's Art Chat sessions are a way for our artist community to connect and socialize online (via Zoom). We share our art and techniques, and it offers a forum for receiving and giving constructive feedback when desired. Everyone is welcome. Attend as many sessions as you like. We are now meeting once a month on the first Tuesday of each month.
---
Member Galleries
AiA's Member Gallery Pages are great way to see our members' artwork. Each artist's on-line gallery showcases up to ten works of art, an artist statement and links to their site(s). We hope you enjoy browsing the galleries as much as we enjoy making the art.
---
*Please note that a Member Gallery Page is an optional benefit for current members with the +Gallery level of membership.