About Outside the Box
Artists in Action Members and Salem-area artists are encouraged to think 'Outside the Box' and create fantastic embellished boxes for a AiA's annual fundraising auction. Its a festive showcase of creativity, held during the Salem Art Fair & Festival in July.
One-of-a-kind, weird and quirky boxes are what the public has come to expect and appreciate at this event. Mediums and techniques have included painting, carved wood, assemblages, metalwork, fiber arts, glass, tile mosaics, ceramics and more. Artists graciously donate their box creations and sale proceeds from an auction directly support AiA to help our organization and artist community.
This year both the Salem Art Fair & Festival and AiA's Outside the Box Annual Fundraiser are held in the physical realm once again. Artists in Action will have a booth at the fair which will be held in Salem's Bush Pasture Park on July 21, 22 & 23, 2023. Iron Man will be happening on July 23rd, so come early to find parking.
---
Outside the Box Call to Artists
Calling AiA and Local Artists: Please help us raise funds next year by creating/donating your inventive and quirky box creation(s) for auction. For info about the boxes, tap the Call to Artists link below. We'll post more details here as they become available.
Outside the Box | Call to Artists
Visit the Salem Art Fair Website
Volunteers for Outside the Box go here: Outside the Box Booth Sitters
Outside the Box Workshop
Day/Time: Sunday, June 11th from 12 noon to 4 or 5 pm (whenever we finish : )
Location: GG's Down to Earth Studio, 240 Bush Street S., Salem, OR 97302
$20 material fee for studio supplies
Come and join in on the fun and support your local art association! Let's get together and decorate boxes for the Outside the Box silent auction fundraiser for Artists in Action at the Salem Art Fair. Here at the Down to Earth Studio we have all sorts of papers, paints, and paraphernalia; beads, baubles, and bling; doo-dads, delights, and decorations to adorn your boxes. We even have lots of choices of boxes!
Your box will be donated to the Artists in Action fundraiser event.
Email GG to save your spot. (By the way, you do not have to be a member of AiA to participate.)
GG's cell: 503 990-0278
She has everything there to make a box (collage papers, paint, doodads, ephemera), but if you have something specific you want to include bring it along and we will add to it her stash. She has choices of boxes, too, like cigar boxes, wooden boxes, treasure chests, etc. She'll be glad for you to come and use up some of her art supplies.
We have a small group of 4-5 of us and the studio can comfortably accommodate 8 people, so if you know anyone who would like to join us, please invite them to come along.
---
Outside the Box Galleries
---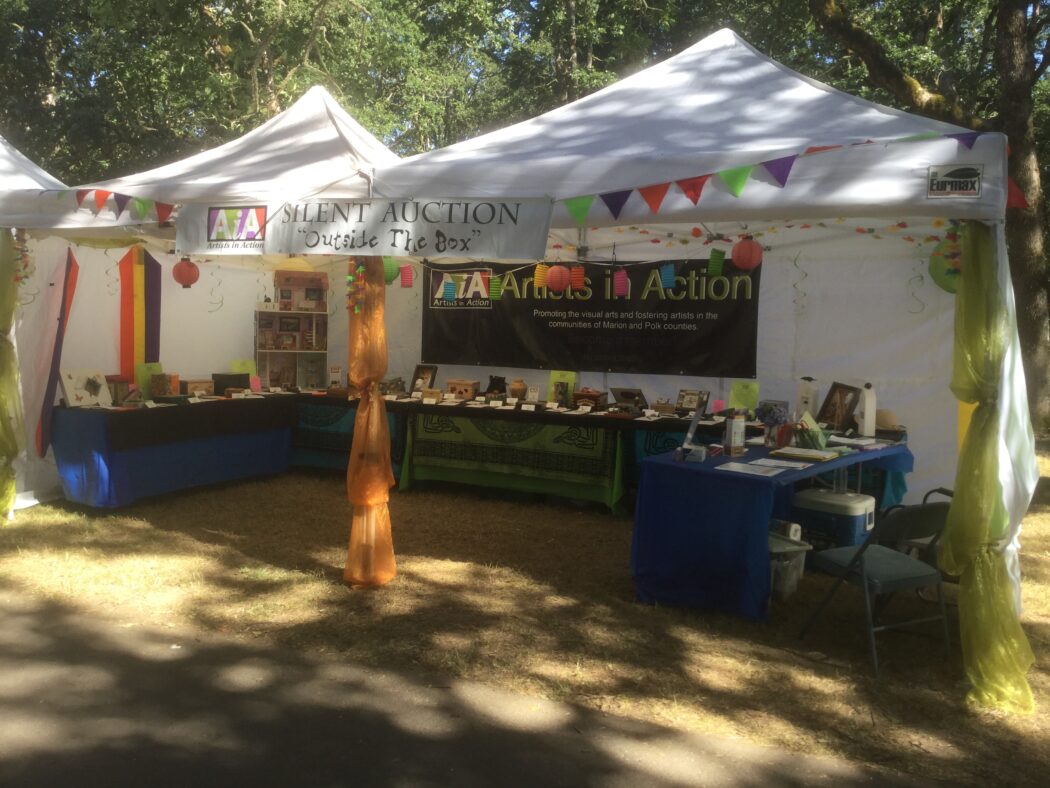 ---