AiA's Events & Exhibitions
---
Paint & Write the Town
Paint & Write the Town is a hugely popular annual event. Over the summer, artists and writers create works en plein air that are interpretive of one or more scheduled, inspirational locations followed by a juried art exhibit in October.
Paint & Write the Town Schedule
Paint & Write the Town Location Agents
---
World Beat Festival
We are having a Fund Raiser at the World Beat Festival that all members can participate in, whether you volunteer watching the booth or not. Bring your 8×8 2-D artwork (painting or other medium) to the June 20th meeting to donate for this display. We will offer the 8×8 hangable art for an extremely affordable price to raise funds for Artists in Action. It's a good chance to get your work and your name in the public eye.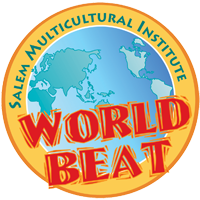 ---
Something Red
Something Red is AiA's crown-jewel annual event. The call to artists goes out in October and asks for artwork that uses red as a focal point or primary color in the composition. In December, a juried art exhibition is held at Elsinore Gallery, downtown Salem.
---
Springtime Art Exhibition
Each spring presents a fresh artistic challenge and April exhibit. AiA's inaugural springtime call and exhibit was titled "Spring Reign." For our second annual event, we asked artists to create works inspired by the phrase, "Spring Eternal" and for 2022, the theme was "Spring Fling". For 2023, the theme is "The Essence of Spring" and will be asking for art interpreting either Spring or the Essence of Spring (or both). The resulting art exhibition is held at Elsinore Gallery in downtown Salem, Oregon during April.
---
Outside the Box
Artists are encouraged to think Outside the Box and create fantastically embellished, one-of-a-kind, quirky boxes for AiA's annual fundraising auction which is held concurrently with the Salem Art Fair & Festival in July. Bidding on these unique works supports our artist community.
Volunteers for Salem Art Fair/Outside the Box go here: Salem Art Fair/Outside the Box Booth Sitters
---
---
Salem Hospital – Cancer Survivor Showcase
The Cancer Survivors' Celebration Showcase is an annual event held in the waiting area of Building C of the Salem Hospital during the months if May/June. If you are a cancer survivor or have cared for a cancer patient, you are cordially invited to show one big or two smaller artworks in the May/June showcase. The 2023 showcase season is already closed, but contact us for the 2024 showcase.

About Salem Hospital Cancer Survivor Showcase
Spinnaker Place
Spinnaker Place is a modern professional building in Salem. Its five floors are host to rotating artwork by members of Artists in Action.
---