Paint, Write & Create during June, July & August; Exhibit, Reception in October
Paint the Town is a popular summertime event. Artists of all skill levels working in any medium meet to create art "en plein air" that is interpretive of one or more of the scheduled locations in historic, scenic and downtown locations. Sometimes, poets of the Mid-Valley Poetry Society join in to write prose inspired by the site. On the first Wednesday in October, a juried exhibit with cash awards opens at Salem's Elsinore Gallery.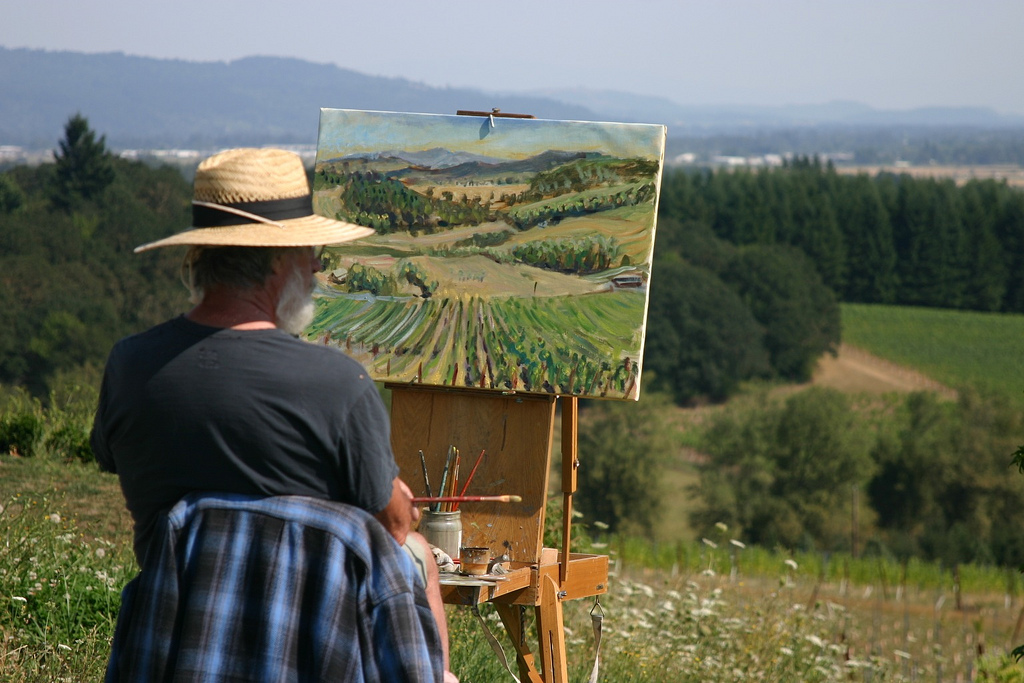 ---
Paint the Town / Write the Town in 2020
The AiA tradition continued in 2020 with a few tweaks for social distancing. This year, because of the pandemic, artists and writers had the option to paint, write or create at home or at another site where they felt safe. As always, everyone was welcome to participate in this event, both members and non-members.
---
And the Paint the Town Winners Are…
Thank you to all participating artists and writers for keeping this AiA summertime tradition alive. It was our 22nd annual event, and we hope to see you again next year! Here are the works of art that received awards. Tap any image to enjoy a larger, slideshow view.
---
Meet the PTT Judge
Salem artist Dayna Collins got up close and personal with the works of art and decided which received the first, second and third place awards as well as honorable mentions.
---
Pain the Town / Write the Town Gallery
See the entire collection of visual and written works created for the 2020 PTT/WTT exhibition:
Paint / Write the Town Galleries
---
October Exhibit

Elsinore Framing and Fine Art Gallery at 444 Ferry St SE in downtown Salem hosted the exhibition of the plein-air paintings and written works in October. We thank Brent and associates for their continued support of AiA and local artists.
Elsinore Gallery & Framing's Website
---
Art Department Award
Art Department, Inc. is a downtown Salem art-supply haven. They bestowed their favorite art with their namesake award (see above gallery) and its artist with a gift certificate. The shop is located at 254 Commercial Street NE and they offer curbside service.
---
Paint the Town 2020 Awards Presentation
---
AiA Write the Town 2020 Prose Recitations
---
---
Where We Painted in 2020
| Meetup Date | Time | Location |
| --- | --- | --- |
| June 6 | 10-4:00 | Salem's Riverfront Park |
| June 13 | 10-4:00 | Laura Kruss' Garden in West Salem (private garden) |
| June 20 | 10-4:00 | Misner Family Farm in Crabtree, Oregon |
| June 27 | 10-4:00 | Union Bridge from Wallace Marine Park |
| July 8 | 1:00–Sunset | Deepwood Estate/Gardens |
| July 12 | 1:00-5:00 | Capitol Grounds – UPDATED Day & Time |
| July 19 | 10-4:00 | Bush Park |
| July 26 | 10-4:00 | Eola Hills Winery |
| August 1 | 10-4:00 | Dewey Whitton in Ankeny Hills (private garden) |
| August 9 | 11-5:00 | Cubanismo Vineyards |
| August 15 | 10-4:00 | Minto Island Growers |
| August 22 | 10-4:00 | Willamette Heritage Center (the Mill) |
---
We Use ArtCall.org to Manage Our Calls to Artists
The Paint the Town / Write the Town Call to Artists is managed thru ArtCall. ArtCall.org is a distinctly separate site from the AiA website and requires registering for an ArtCall account to participate. You only need to register once; then simply log in for all future AiA calls. ArtCall provides you with an easy way submit your art and entry fee and provides us with an effective way to manage all aspects of the call. So, if you participated in last year's Something Red or Spring Reign 2020, you will simply need to log in to the ArtCall.org site. If you forgot your password you can reset it. First-timers need to register.
---