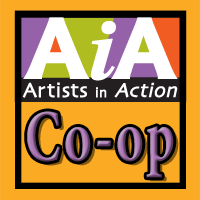 Some Initial Ideas from AiA:
Keep our core shows in the 444 Gallery – Outside the Co-op
Outside the Box is not included in the Co-op
Will need to create a Co-op Committee to organize/run the Co-op (4-5 people)
Would need to hang the shows – with a hanging sub-committee
Establish the shows/focus, including shows such as:

Featured artists – May have more space for a featured artist

Working with retirement homes for education/show

Theme or Group shows rotated with Consignment shows

Rotate the artwork so artists have balanced access
May want to write a grant to initially help support
Co-op Basic Information
Organizing documents are being drafted
Everything is subject to change as we create and refine these documents
All members are expected to work on committees or provide support in some way
Dues are expected to be collected via AiA Membership
We would like to get a 6 month commitment from artists
Fee Structure – Subject to change
| | | | | | |
| --- | --- | --- | --- | --- | --- |
| Category of Participant | Monthly Fee | Artist % | AiA % | Elsinore% | Total |
| Co-op Member – Non-Sitting | $ 50.00 | 50% | 30% | 20% | 100% |
| Co-op Member – Sit the gallery | $ 35.00 | 60% | 20% | 20% | 100% |
| Guest Artist | $ – | 60% | 20% | 20% | 100% |
Relationship with Elsinore – Subject to change
Elsinore
Will collect sales
Will make payments to Artists minus commission
Will report Artist income to IRS
Will report sales information to AiA/Co-op
Will stand in for gallery sitters when not available
Will provide advertising
AiA Co-op
Will collect Artist Fees
Will make payments to Elsinore for gallery space
Will organize and hang artwork
Will provide gallery sitters
Will provide commission % details to Elsinore
Will provide advertising and signage information to Elsinore
Committees and Responsibilities
Curatorial Planning Committee
Shall be responsible for recommending to the Members for approval an annual list of all regular and special exhibits
Public Relations/Media Committee
Shall be responsible for generating PR/Media opportunities, advertising, marketing, website management and signage for the Cooperative
Curating Committee
Shall be responsible for curating the gallery and hanging the artwork
Reception Committee
Shall work with the Curatorial Planning Committee & Members to ensure receptions are held for regular and featured artists exhibitions
Membership Committee
This committee shall be responsible for establishing and maintaining application forms for Memberships and Consignment and reviewing applications
Work Scheduler Coordinator
This person shall be responsible for managing the monthly gallery sitting calendar for the AiA Co-op
Basic Operations/Supplies
This committee ensures that the gallery has basic supplies purchased and also monitors the gallery to see that maintenance of the gallery is brought to the Membership's attention and that once agreed upon, schedules completion of that maintenance.
Frequently Asked Questions
Do you need to be juried into the Co-op?
– Yes, there will be a committee to review applications
How long can you show artwork?
– As long as you would like
– There may be themed or group exhibitions
Artwork rotation
– Artwork will be rehung each month by hanging committee
– Artists responsible for changing their artwork
– Limit artwork to 3 months before changing it out
444 Gallery – Existing gallery for shows
– Outside Co-op – for existing shows (P&WTT, Something Red, Springtime Exhibition and other shows, and Elsinore shows)
We need to move out of the main gallery for the Watercolor Society Exhibition in October
Time commitment for gallery sitting – Target ~8 Depends on the number of sitting co-op members
Insurance?
– All exhibiting artists (Member, Consignees and Special Exhibit Guest Artists) are expected to insure their art against damage, theft or loss.
AiA Co-op Next Steps
Organizing Meeting
– A group of members interested in helping run the co-op will be formed
– A meeting will be held in early December to review and refine organizing documents
– Elsinore will be part of the review process
Documents will be provided for comment, feedback and finalizing
Agreements will be made with Elsinore to solidify the relationship
We will target to initiate the Co-op in the 1st quarter or 2023
AiA Co-op Interest Form
This form is used by individuals interested in the Elsinore AiA Co-op
---